Growing up, I used to be an avid reader of the
Star Wars
Expanded Universe. As I went to college and the like, I had less time for fun reading, so my EU novels would pile up until I'd get a chance to marathon through them. My last marathon was in 2005, before Episode III came out. :)
Now that there's the news of a new movie on the horizon, my excitement for the EU (even though I know the new movies are likely to ignore ALL of it) has been reignited, so I'm back to reading EU novels. Not a marathon though: I've still got other SF/F books to read (that's what my blog is known for), but I'm definitely hoping to use next year to really start catching up.
If anyone is interested, you can find all of my EU reviews and general discussion of
Star Wars
HERE
. I've talked about how I'm going to tackle this EU reading project, where newbies should start if they want to start reading
Star Wars
novels, and the like.
And for anyone who might be interested in my rambling thoughts on the EU books as I read them, I'll be posting (as long as there seems to be interest: I don't want to spam the community with stuff no one is responding to) my monthly review list so long as it includes an EU novel.
Comments and discussion are always welcome, but please be kind: I'm VERY behind, so no spoilers please. :)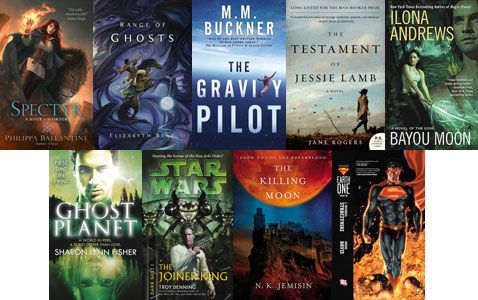 Here are the reviews posted during November. Please note, this is not a comprehensive list of books I
read
in November, but rather the books I had the time to review before month's end.
1) Philippa Ballantine,
Spectyr
:
It's a Gamble
2) Elizabeth Bear,
Range of Ghosts
:
Good Read
3) M.M. Buckner,
The Gravity Pilot
:
Good Read
4) Jane Rogers,
The Testament of Jessie Lamb
:
Excellent
5) Ilona Andrews,
Bayou Moon
:
It's a Gamble
6) Sharon Lynn Fisher,
Ghost Planet
:
Worth Reading, with Reservations
7) Troy Denning, Star Wars: Dark Nest I: The Joiner King: Worth Reading, with Reservations
8) N.K. Jemisin,
The Killing Moon
:
Good Read
9) J. Michael Straczynski,
Superman: Earth One: Volume Two
:
Good Read
Moderators, if this post isn't appropriate, let me know and I'll edit accordingly. Thanks!